High Performing Happy Teams Are Psychologically Safe
Psychological Safety, a group dynamic in teams, is a concept defined by academics – in particular Prof Dr Amy Edmondson from Harvard – and studied by Google – in their Project Aristotle looking at high performing teams – and it has been proven to be the cornerstone of any team's productivity.
High performing teams from any industry "make magic" together when they feel safe, are open and vulnerable with each other, admit mistakes and encourage failure to learn, feel connected and therefore succeed. In a sense, the Psychological Safety Dashboard is to "teamwork" what Slack is to "communication" and what Jira/Trello are to "project management" – a work tool for high performance.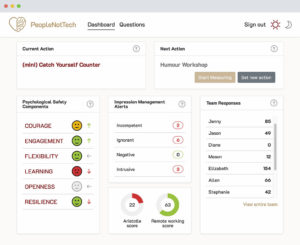 PeopleNotTech's team solution leverages a proprietary algorithm to create a space where teams can see clear data on how they are doing on the various components and behaviours of Psychological Safety in our Dashboard and encourages autonomous and effective team-level action to improve them through our Playbook. Teams are then empowered and can better their behaviours through their own efforts then measure again. This effectively works just as CBT (Cognitive Behavioural Therapy) does for individuals but for teams.
Facts about Psychological Safety
Teams that have high Psychological Safety are up to 40% more productive.
Psychological Safety was first researched in the 1960s.
The catastrophic failure of the two Boeing 737 MAX aircraft has been determined to have been caused, in part, by a lack of Psychological Safety.
Teams that are Psychologically Safe are consistently high performing.
When Army and Navy teams are asked to describe their team in one word, they often choose "family".
Some teams describe Psychological Safety as "running fast and making magic".
Teams that have high levels of Psychological Safety are reporting higher degrees of resilience.
When teams learn together, their Psychological Safety levels increase, as they feel safe to experiment and fail.
Psychological Safety is a team dynamic that includes a sense of group trust and open behaviours.
The negative behaviours in teams that decrease Psychological Safety are called Impression Management – which occurs when team members do not speak up (offer opinions, raise points, questions, etc.) – for fear of appearing either Ignorant, Negative, Incompetent or Disruptive. This happens to all teams and all employees multiple times a day but once awareness is raised we can all look out for it and diminish the behaviour.
Google ran a comprehensive study named Project Aristotle, analysing successful teams. They found that Psychological Safety was the one trait they had in common followed by "Dependability", "Structure and Clarity", "Meaning" and "Impact"
The Accelerate Report polled over 3,600 technology companies and concluded that the findings from Google's Project Aristotle around the importance of Psychological Safety applied to most tech enterprises as well.
Psychological Safety is not about being nice — it creates a safe space for accountability and challenge.
Studies with surgical teams showed that projects framed by the leader for learning and vulnerability are more successful.
Studies show a 40% reduction in safety incidents for teams that have Psychological Safety.
Psychological Safety has been proven to reduce employee turnover by 30%.
You can read about the relationship between Agile/DevOps and Psychological Safety in Teams in the People Before Tech: The Importance of Psychological Safety and Teamwork in the Digital Age book.